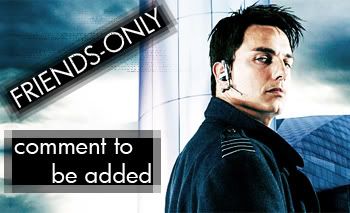 Due to the fact that I make a living teaching and volunteering with net-saavy teenagers, this journal is
Current Mood:

content

Current Music:

Rent ST's 'I'll Cover You'
MERRY CHRISTMAS!!!!



Wishing you all a wonderfully merry and blessed Christmas. I know the PC thing is to say 'if you celebrate' but in the words of the angel speaking to the shepherds 2000 years ago, 'I bring you good news of great joy that will be for all the people.' (Luke 2:10) Merry Christmas. ♥♥♥
Current Location:

CANADA!

Current Mood:

loved

Current Music:

my family upstairs :)


Anyway, it's that time of year again. I need to know if you want a Christmas card. Essentially, if we talk regularly, I'll send you a card. If we don't, I'd still love to send a card, just give me your address! Comments will be screened.

FYI: Exactly And ten days until I move. And only one month until I go home for Christmas. And 35 days 'til Christmas!!!

EDIT: Changed the icon, though I'll probably redo it later.
I need to redo this icon.
Ellen today (10:00am and 5:00pm). ♥
Hugh Laurie is on
Current Mood:

amused

Current Music:

David Sedaris' "Live At Carnegie Hall"
Current Mood:

accomplished

Current Music:

Jeremy Camp's 'You're Worthy of My Praise'
andrealyn
's book, I'm sharing a recipe with
y'all
. This was in
Redbook
last month and it's absolutely fantastic. It's a healthy version of Spaghetti Carbonara but it tastes even better (no lies there...my dad absolutely loves it and the man refuses to even eat whole wheat bread).
(
the recipe
Collapse
)
Taking a page out of
The Tories have won.
I am ecstatic that the Liberals are no longer in power. And I'm glad that the NDP gained so many seats...but I had this little fantasy where the Liberals disappeared off the radar and the NDP became the Official Opposition to the Tories.
I'm not as happy as I expected. But one thing I am happy about is that it's a minority gov't. That means that all eyes will be on Harper and his party and breathing down their necks if they step off track. That makes me happy. Very very happy. Responsible government means accountability (responsible gov't, you ask? I know, hopefully we can see what it looks like as the Liberals sure didn't demonstrate that). I don't think they'll raise the same sex marriage...they can't afford to, and that makes me very happy. And did I mention that I love how many seats the NDP got?
Bed. Now.
VOTE!
Current Mood:

accomplished

Current Music:

U2's 'In the Name of Love'